The record-breaking event on Twitch will return in September. The ZEvent 2022 takes date. Here is the program and the participants, and as usual it does not please everyone.
ZEvent 2022 date and a big concert before the event
the stream Zerator and all his gang are back for a sixth edition. ZEvent 2022, one of the biggest video game events in France, will return from September 9 to 11 for the benefit of the GoodPlanet association. The environmental cause will therefore be honored by some fifty streamers who will broadcast live content for more than fifty hours to collect donations.
Like last year, the ZEvent 2022 will be preceded by a concert on the stage of the Zénith de Montpellier. The organizers promise a succession of 11 personalities for more than 3 hours of show, which will also be broadcast on Twitch. Soprano, Bigflo and Oli, PV Nova, French Fuse and Berywam will take part in this musical evening. The ticket office will be open from Monday, July 11, at 7 p.m.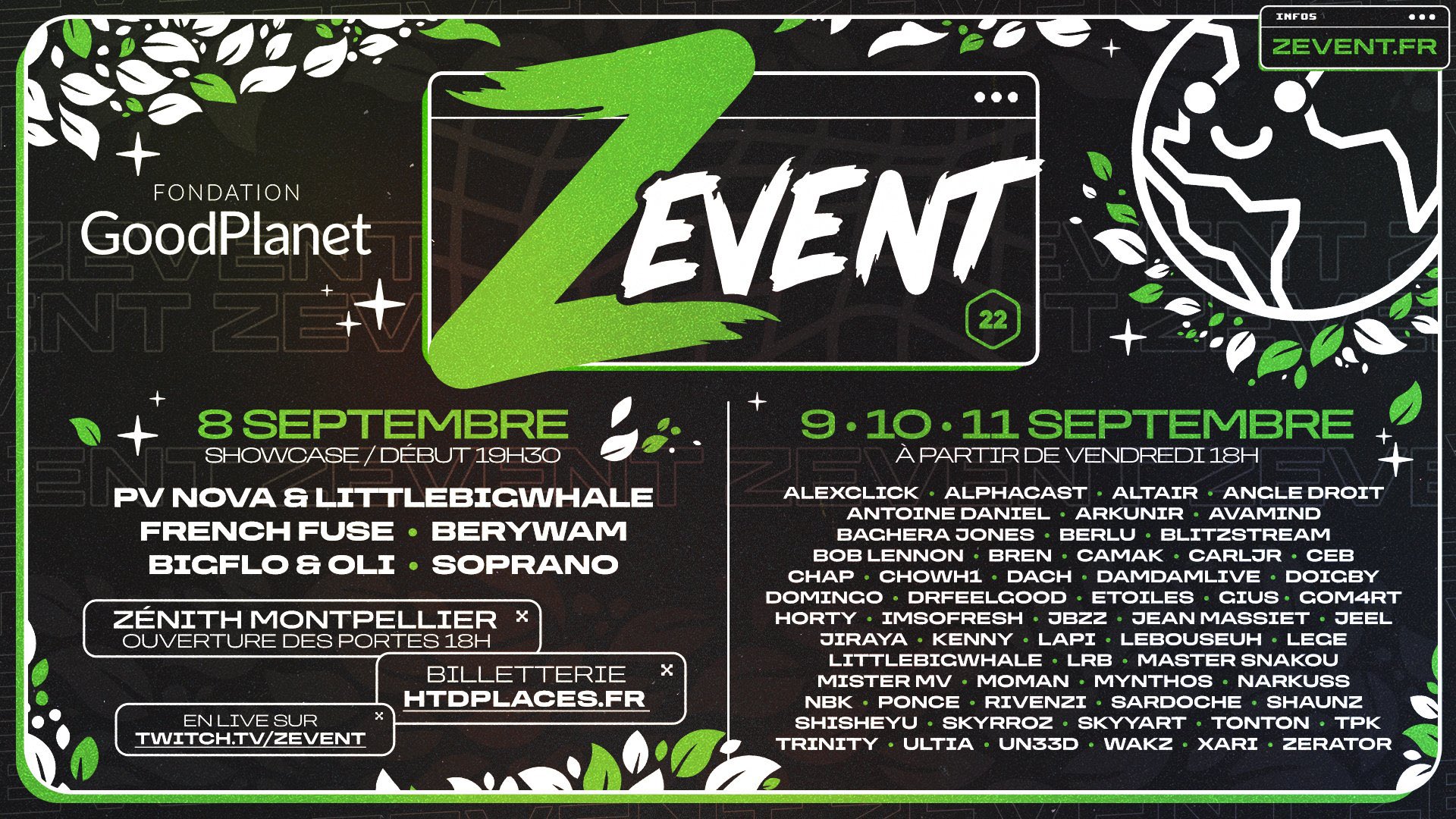 The list of participants of the ZEvent 2022
Alexclick
Alphacast
Altair
Right angle
Anthony Daniel
Arkunir
Avamind
Baghera Jones
belu
BlitzStream
Bob Lennon
Bren
CaMaK
CarlJr
ceb
Chap
Chow1
Dash
DamDamLive
Doigby
domingo
DrFeelgood
stars
Guis
Gom4rt
Horty
ImSoFresh
Jbzz
John Massiet
jeel
Jiraiya
Kenny
lapi
LeBouseuh
Lege
LittleBigWhale
Master Snakou
Mister MV
MoMan
Mynthos
NBK
Pumice
Rivenzi
sardoche
Shaunz
shishyu
SkyRRoZ
skyyart
Solary
uncle
TPK
Trinity
Ultia
A33D
xari
ZeratoR
An association and participants who ignite the Web
After so many records, the charity event is particularly expected at the turn. In 2021, all these beautiful people had made it possible to raise more than ten million euros for the NGO Action against Hunger. And we wish them to raise such enormous sums. However, the announcement of the event was spoiled on social networks where the chosen work (for its affiliations with Total) and the list of participants are debated (to change).
Some lament the absence of their favorite personalities or big names like the Player of the Attic, Squeezie or even Michou, Inoxtag or Amine who have only made the event once. The communities of the latter three have found nothing better to do than to attack other streamers and especially streamers present based on hate messages. Others cry out for deliberate racism on the part of the organizers, which one of the parties concerned denies. In the meantime, we remind you that the goal of the ZEvent 2022 is not to beat last year's record, but to support a cause " that affects us all, that is too important to ignore explains Zerator.