A new free Xbox Game Pass January 2023 game has been revealed ahead of time. It comes from a license that is very popular with fast-FPS enthusiasts.
Xbox Game Pass games for January 2023 are slow to be announced. Since the beginning of December, there have been no new additions. End-of-year celebrations oblige, Microsoft had not deployed the usual second wave. Subscribers are therefore eagerly waiting to find out what titles they will have access to this month. Still no communication from the Redmond firm, but one of the new Xbox Game Pass games has leaked.
New January 203 Xbox Game Pass game revealed ahead of schedule
The very first Xbox Game Pass game of the year is already available. Microsoft has indeed added Stranded Deep to the catalog by surprise, even though no announcement on the January 2023 program has been made. A few hours later, Mortal Shell returned to the service a month after leaving it, all in an improved version. Now, it's one of the new games of the month that gets revealed ahead of time, and it's a fairly recent release. We're not going to make the suspense last, Shadow Warrior 3 should arrive in the Xbox Game Pass within a few days.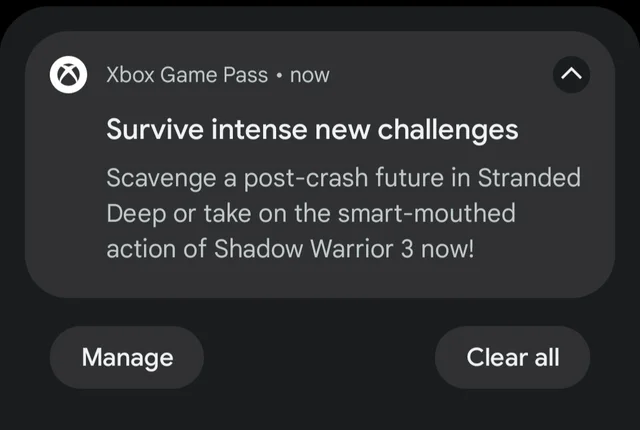 Several players and subscribers have indeed received a notification explaining that Shadow Warrior 3 was now available in the XGP. But precisely, it is not. Everything suggests that the Xbox Game Pass January 2023 games announcement is imminent. For those who missed this title published in March 2022, the presentations are essential. Continuation of the saga appreciated by fans of the genre, Shadow Warrior 3 follows the adventures of fallen shogun Lo Wang as he sets out to capture a dragon they unwittingly freed. On the program, a whole range of blades and balls, acrobatics, action and of course a good dose of humor. This next game, however, has not fully convinced players and the criticism is due to a low lifespan and many bugs.