It was available at the launch of the PS5 and it was just as quickly forgotten. Result, Sony will get rid of this feature completely forgotten.
While the question of the price of the PS5 is on everyone's lips, Sony will discreetly remove a feature from its console. We reassure you right away, almost no one uses it!
End clap for PS5 accolades
A PS5-exclusive feature is preparing to disappear. You probably forgot it because in reality hardly anyone uses it. As a reminder, the new generation console from Sony is equipped with a system of braces allowing feedback to players encountered online by sending them the equivalent of a badge. In fact, others could know if this person is sportsmanlike, welcoming or team-oriented. These kudos are then displayed on the PSN profile, but this will soon no longer be the case.
The official PlayStation website indeed indicates that the brace system will disappear on an indefinite date, set for this fall. The reason ? The PS5 feature" did not meet with the expected success. We are therefore going to refocus our efforts. We encourage the community to continue sending positive messages to each other. "explains the Japanese publisher. Despite everything, Sony hopes that players will continue to create a positive and healthy online environment by sending messages of encouragement.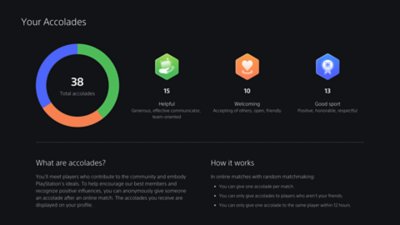 The feature should therefore not be missed by many people. And one lost, one found. Remember that Sony is preparing the arrival of PlayStation Stars, its loyalty program which is particularly awaited by PS5 and PS4 players.