Sony's plans for the PS5 and beyond may have been revealed in advance. And that includes Death Stranding 2 and the Twisted Metal reboot.
Were the Horizon Zero Dawn Remake and Multiplayer Spin-Off Leaks Just the Beginning? Sony might have been the victim of a huge leaked revealing its upcoming PS5 exclusives. We take stock of this document shared by several insiders and renowned journalists.
Future PS5 exclusives revealed in advance?
For long weeks, even months, players have been asking for a PlayStation Showcase to discover the future exclusives of their favorite consoles. If Sony is still silent despite a recent State of Play, some of its plans would have been revealed in advance. A document circulating among several insiders and credible sources ended up on the Web yesterday and he would reveal the unannounced PS5 exclusives in preparation at various partners. Here are the games that would be in development:
Guerrilla Games: Horizon online game (GaaS, Multiplayer, PC/PlayStation5)
Firesprite: Heartbreak (Survival Horror, PC/PlayStation5)
Sumo Digital: Carbon (Open World, Multiplayer, PlayStation5)
Lucid Games: Redstar (Car, Fighting, Multiplayer, PS5)
Kojima Productions: Ocean (Open World, PlayStation5)
Ballistic Moon: Bates (Survival Horror, PlayStation 5/PC)
London Studio: Camden (GaaS, PlayStation5/PC)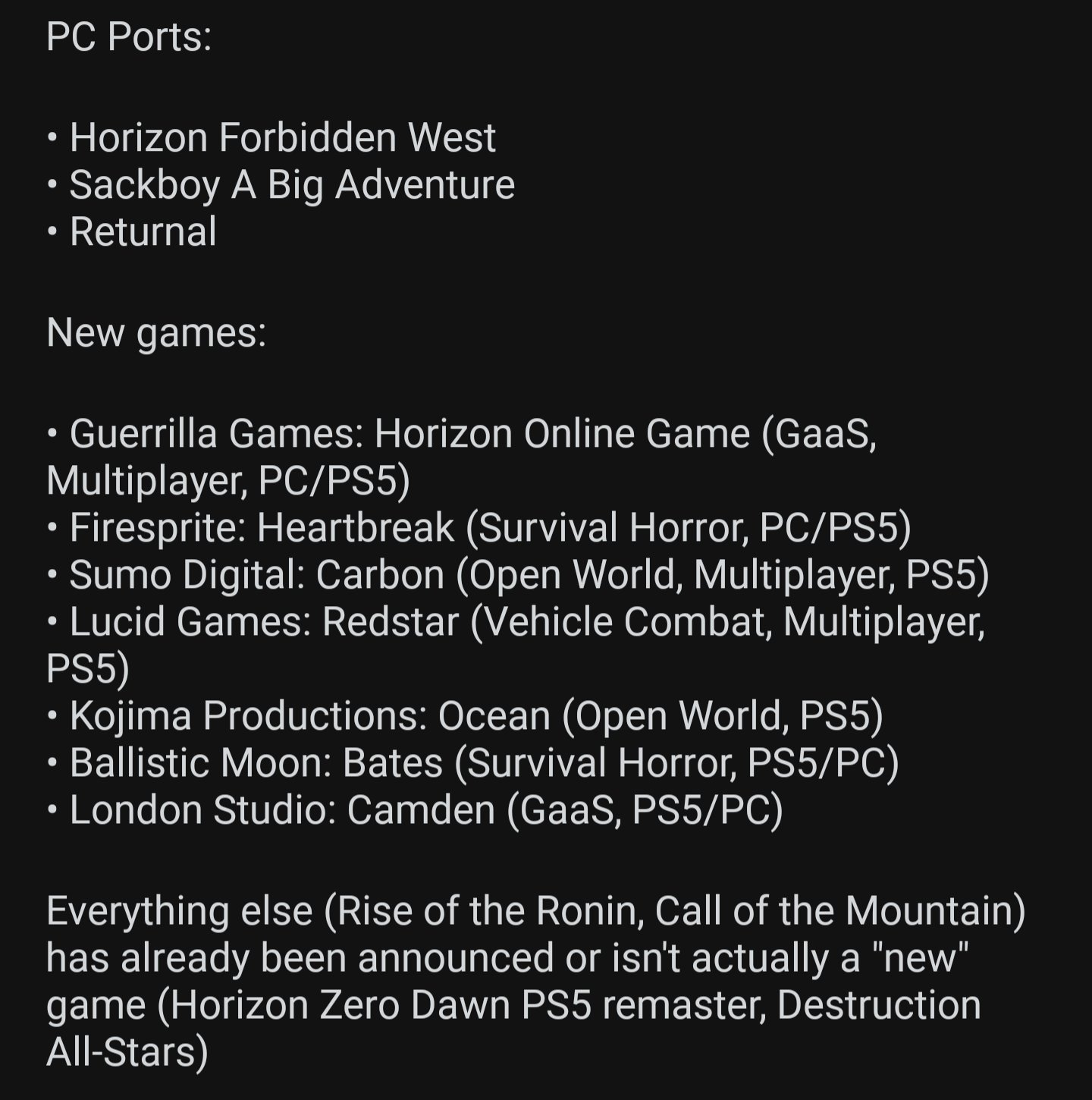 If the legitimacy of this document remains to be proven, it nevertheless contains the famous Project Ronin announced very recently by Koei Tecmo. According to Tom Henderson's sources, Redstar would be a reboot of Twisted Metal, but it would no longer be developed by Lucid Games. L'insider therefore considers the document to be rather old and outdated. Kojima's PS5 exclusive would unsurprisingly be Death Stranding 2, which was recently wildly rumored. As for the leaked Nvidia, the authenticity of the document should be proven, or not, over the announcements.