Only a few hours left to take advantage of one of the PS5 and PS4 good deals. Through your consoles, you can get up to 6 months of Apple TV+ free trial, but you'll have to hurry.
Apple TV+ free on PS5 and PS4 for 6 months
Apple TV+ for free for several months, are you tempted? PlayStation offers owners of its last two consoles to test the new competitor from Netflix and others free of charge. The only requirement? Have a PS5 and create an Apple account. Those who have already tried Apple TV+ for free on another platform will also be able to take advantage of it by creating an identifier from a new email address. However, do not wait too long, because the offer can only be activated until October 19, 2022. It can only be used once per console. On PS4, the free trial is also available, but it is only for three months.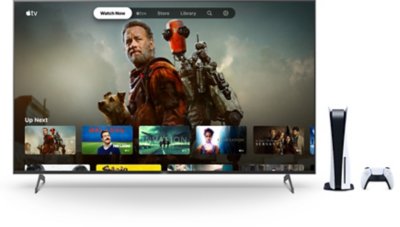 Getting your free months of Apple TV+ on your PS5 or PS4 couldn't be simpler. First, search for the streaming service app in your console's search bar, or in "All apps" in the Media Portal. Download it then open it. Then follow the onscreen instructions offering you the offer and sign in to your Apple ID or create one if you don't have one. All you have to do is take advantage of your free trial to Apple TV+ to discover its acclaimed series like Ted LassoSee with Jason Momoa, Severance or even The Morning Show. Remember to deactivate it before the end of the six months if you do not want to extend it and be billed €4.99 per month.