The PS5 versions and Xbox Series of Gotham Knights are at the heart of a controversy a few days before their launch. Players have started canceling their pre-orders.
The controversies have been linked this weekend. While Bayonetta 3 is under the fire of a scandal following the call for a boycott of the original actress, Gotham Knights also comes under heavy criticism. Faced with growing questions from players, Warner Bros Montreal has confirmed what many consider to be bad news. The PS5 versions and Xbox Series X of the game will not run at 60 fps.
No performance mode for Gotham Knights on consoles
Warner Bros Games Montreal still kept a few details snug. This weekend, the studio played double or quits by announcing good news and bad news for Gotham Knights. The one that will have caused the most talk is that the game will not exceed 30 fps on PS5 and Xbox Series. No "performance mode", classic to new-gen titles, will be available. So there will be no way for console players to run the open world at 60 fps.
Fleur Marty, producer of the game, justifies this choice by the presence of the cooperation mode and the default activation of ray tracing. " With the kinds of features we have, like providing an unaltered co-op experience in our highly detailed open world, it's not as easy to drop the resolution to get a higher framerate. For this reason, Gotham Knights has no performance/quality mode. It will run at 30 FPS on consoles. "A statement that was very badly received, especially by those who simply want to play it solo.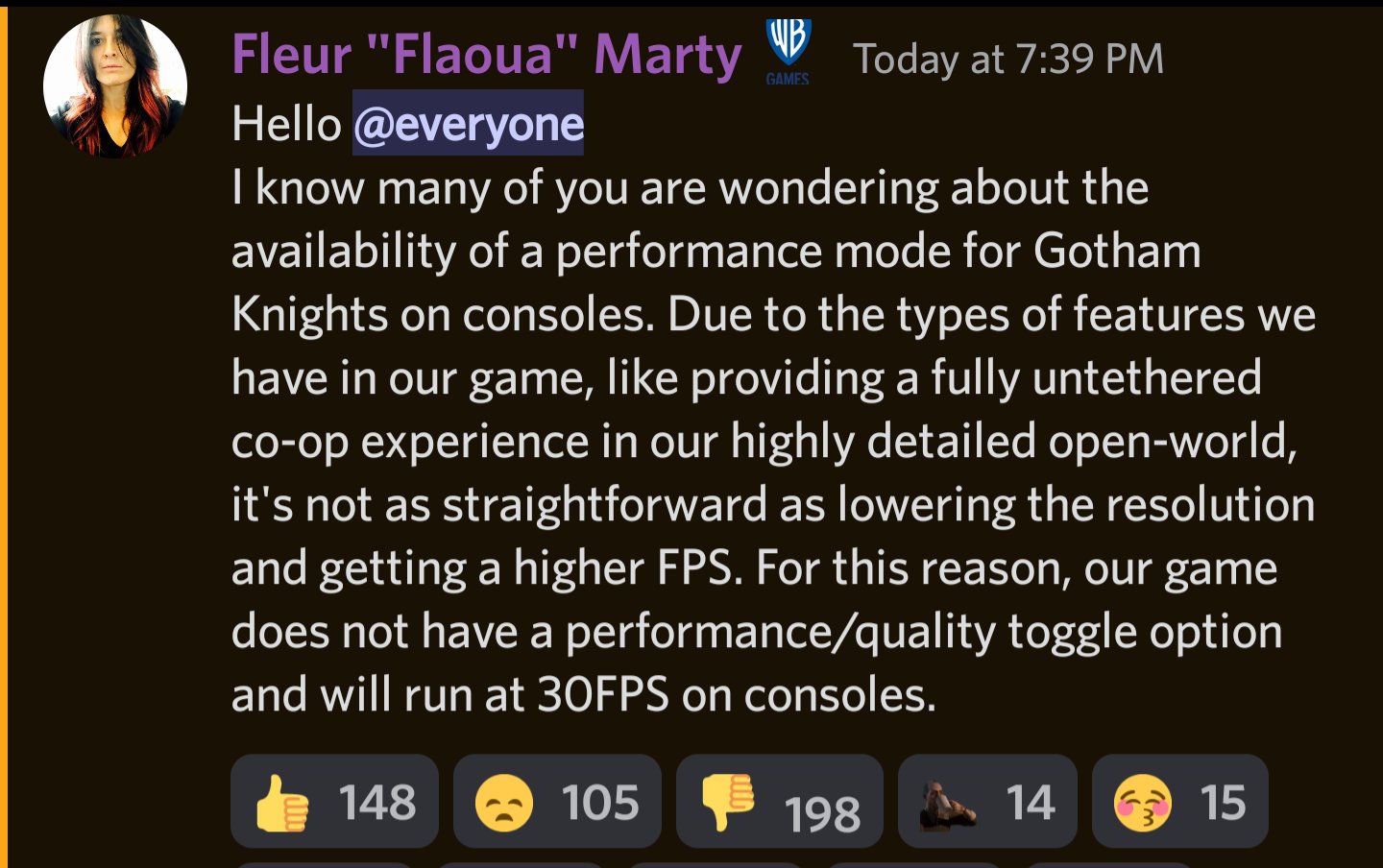 4-way co-op in a post-launch mode
The tone quickly rose, and several PS5 players and Xbox Series simply canceled their pre-order of Gotham Knights. Conversely, others have already received their copy, and big leaks are starting to circulate on the Web. Just before this much-maligned announcement, the studio nevertheless revealed good news. Yes, Gotham Knights will have 4-player co-op, but after release.
A free update will arrive on November 29 on all platforms. It will bring a new 4-player co-op mode, "Heroic Assault". Completely separate from the main story, it will allow four players to complete a series of challenges in arena environments. A total of 30 floors with specific objectives to complete and enemies to defeat in each. At its launch on October 21, 2022, Gotham Knights will allow you to play the entire story for two and explore the open world in its entirety with your companion.